Cycle yourself or cycle with our guide. This is possible on a Saturday from March to September.
Look here for the details
---
Cycling routes
Around the airfield, 14 km
In its 67-year existence, Valkenburg Airbase has been through a lot. Cycle the route and learn about the fighting in May 1940, the food drops in 1945, the Atlantic Wall and the naval airfield.
The route starts at the entrance of De Pan van Persijn ('Panbos') on Wassenaarseweg and is 14 km long. You can park here.
The route leads you past the German barracks village and to our visitor center. The route continues to the village of Valkenburg, the Haagsche Schouw and (optionally) Museum Stoomtrein Katwijk Leiden. And then on to Maaldrift and along the tank ditch and Wassenaar. In De Pan van Persijn you can take a walk to the tank barriers.
You will come across three information panels along the way. The cycle route is an initiative of the municipalities of Katwijk and Wassenaar. The SHVV has contributed to this.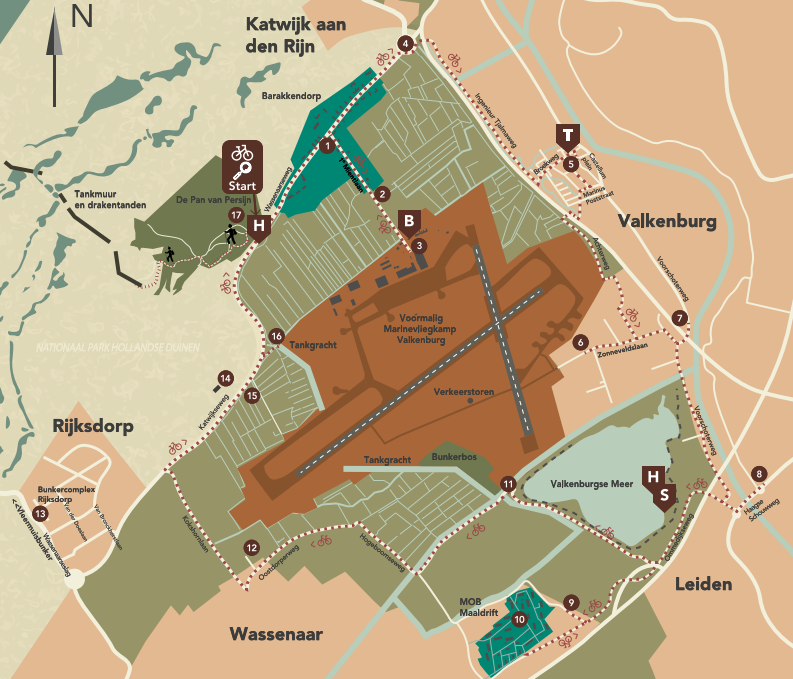 Puzzle tour for the youth
Cycle around the airbase, solve the questions and discover the stories (in Dutch only). Learn everything about the battle in 1940, the war years and the bunkers that the Germans built. And read how the navy used the airbase until 2006.
Puzzle tour completed? Then you can download the answers: